This week, because I enjoy being both efficient and lazy, a large portion of this blog post is going to be the abstract to my master's thesis. My thesis is due next fall so the final abstract will surely look a bit different than what you are about to see here. This is simply a preliminary abstract that I have to submit tomorrow to the honorable Dr. Dave Schroeder (director of jazz studies at NYU) so he can make sure that i'm not going to do anything terribly misguided or unrelated to jazz in my research. Unfortunately I fear I may be doing something terribly misguided and unrelated to jazz. You be the judge…
"Back in the days when i was a teenager,
before i had status and before i had a pager,
you could find the Abstract listening to hip hop.
My pops used to say, it reminded him of bebop"
-Q-Tip (Excursions)
The purpose of this research is to examine the connection between hip hop and jazz. Certainly there have been a number of jazz artists to utilize hip hop beats in their songs (notably Herbie Hancock, Miles Davis, and Branford Marsalis), as well as a number of hip-hop artists to utilize jazz samples in their songs (notably A Tribe Called Quest, Digable Planets, and De La Soul). Yet the connection between jazz and hip hop is deeper than mere examples of cross-pollination. Herbie Hancock himself has acknowledged the relationship between beboppers composing new melodies over Tin Pan Alley chord changes and hip hop MCs composing new lyrics over funk grooves from the '60s and '70s, while the journalist Harry Allen proclaimed outright that "hip hop is the new jazz" (Tate, 388).
There are many similarities between jazz and hip hop. Both hip hop and jazz were created and developed by working class African Americans. Each genre served, and often still serves, as dance music (although jazz has in many cases evolved beyond a danceable rhythm, it is interesting to note that Dizzy Gillespie said in his autobiography: "Jazz was invented for people to dance. So when you play jazz and don't feel like dancing or moving your feet, you're getting away from the idea of the music"). Jazz and hip hop also share musical priorities such as an "obsession with syncopation and timbral exaggeration" (Tate, 388).
The above are just a few general connections between hip hop and jazz. Yet during the course of this research, I will attempt to discern the exact degree to which hip hop is jazz. I will do this by comparing and contrasting each genre's creation, and social function, and aesthetic trends. Finally, I will do rhythmic transcriptions and formal musical analysis of verses by notable rap artists in an attempt to discover the musical similarities between dexterous rappers and jazz virtuosos.
What's up nerds! It's me Lucas, back from formal research writing land and back in the cozy casual world of blog writing. Seriously, anything goes here! Watch.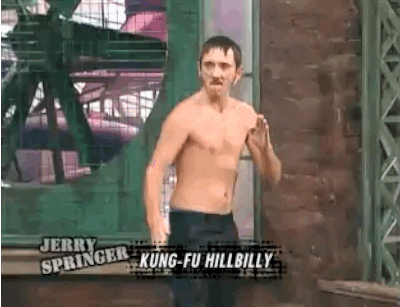 See!
Ok, anyway let me soften the blow of my previous accusation. I don't think that my research will be misguided or unrelated to jazz. I see clear social and aesthetic connections between jazz and hip hop. Yet I do realize that there is potentially a big problem with me exploring this topic: I'm white. Yes, I'm white. I don't know if you all realized this from the fact that I look, sound, and act really white, but it's true, I am white. And yet a foundation of this research is the fact that both hip hop and jazz were created by poor and working class African-Americans. I obviously have no idea what it is like to be black or tan. I've never known anything other than easy living on Caucasian lane.
If I were to at all try to explain the subjective experience of the creators of jazz and hip hop, I would be speaking about something I know nothing about. Sure, I have black friends, yes I play jazz and hip hop— this gives me the authority to talk about the African American experience right? Nope. Not even a little bit. White musicologists have a rich history of overstepping the domain of their knowledge and experience when analyzing African American music. Early 20th century accounts of blues, jazz, and African American folk songs are full of simplistic and racist portrayals of black people. I hope to avoid this trend at all costs.
Luckily, my research is redeemed by the fact that this is formal academic writing (i.e. the most boring, soulless, lame-ass writing in all the land). In this paper, there will be no room for subjective commentary, simply objective description. I've chosen to write about the connection between jazz and hip hop not because either is part of my cultural tradition, but simply because I really love to listen to and play both. And if you have to write a long-ass boring research paper, it might as well be about something you love right?